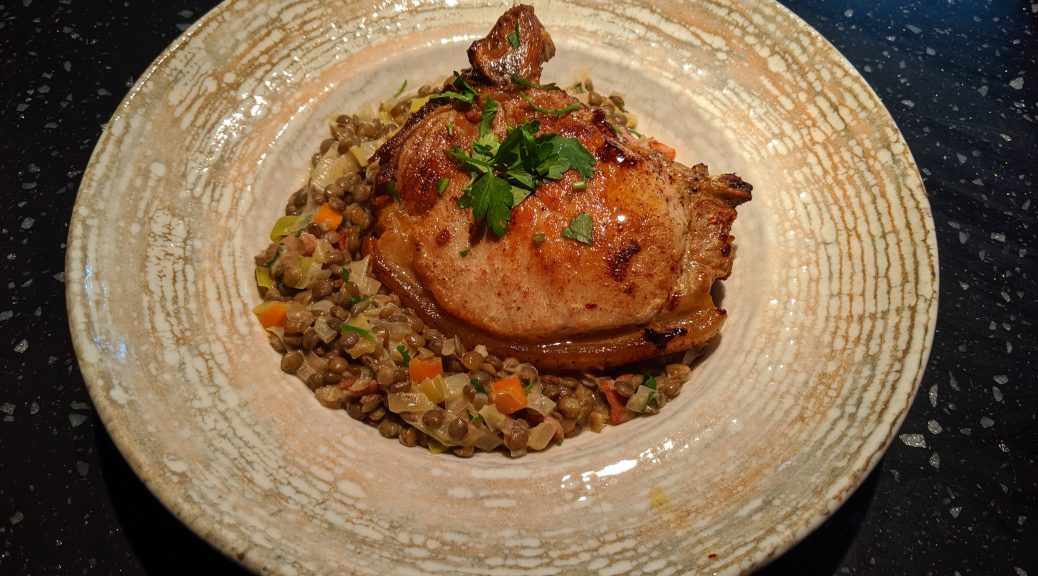 Braised Lentils with Pork Chops
Sometimes, Lentils can seem a little… healthy.  You know when you are eating them that they must be good for you, but that doesn't necessarily make them enjoyable.  When they are treated well though, they make a fantastic addition to a meal. So how can you get the best out of them?  For me, the answer to that question is braised lentils.  Here they are packed full of flavour and beautifully tender.  Crème fraiche and butter bring a silky texture that offsets the soft, mildly spicy flavour of the lentils perfectly. Add to that the smoky, savoury hit of crispy bacon and you have a dish that dreams are made of.
This recipe is adapted from one I saw, about a decade ago, on a Canadian TV show.  Unfortunately I can't remember who originated it, but I have tweaked it over the years and adjusted the measurements into UK friendly values (who measures butter in cups?!). The braised lentils are really versatile, going nicely with chicken, steak or roasted vegetables, but I'm serving them here with pork chops as it is a cut of meat that I love but don't often eat, so it feels like a real treat.
Finally don't be put off by the length of the ingredients list – a number of items appear more than once and all are common items in the supermarket.
TIPS:
You could make the lentils vegetarian by changing the chicken stock for vegetable stock and omitting the bacon. Adding a teaspoon of smoked paprika and a tablespoon of miso paste should bring some of the smoky, umami flavours that the bacon provides. You could serve with wedges of roasted butternut squash to replace the chops.
While the fresh herbs bring some lightness to the dish, they are not essential. If you don't have them to hand, just leave them out – it still tastes delicious.
Experiment with adding other bits of veg. I have added finely sliced cabbage and diced pepper in the past, when I have needed to use them up. Both worked brilliantly.
The exact timing for cooking the pork will depend upon the size of the chops. As a rough guide however, you should start cooking the chops at about step 4 of the lentils recipe –when the carrot, leek and onion are added to the pan.
Braised Lentils with pork chops – serves 4
Ingredients:
To pre-cook the lentils
200g dried puy lentils
½ medium onion cut into 3 wedges, root attached.
2 stalks celery, halved
½ medium carrot, halved
1 bay leaf
To braise the lentils
4 rashers of smoked back bacon, cut into strips approx. 1 cm wide
½ medium onion, diced
1 small leek, sliced thinly
½ medium carrot, diced
1 large clove garlic, minced
75ml white wine
250ml chicken stock
50g unsalted butter
3 tablespoons crème fraiche
1 small bunch of fresh soft herbs such as parsley, marjoram or tarragon, finely chopped.
For the chops
4 large pork chops or cutlets
3tbsp vegetable oil
50g butter
6-8 sprigs thyme
1 clove garlic
Method
Braised Lentils
To pre-cook the lentils, place the lentils, onion, carrot, celery and bay leaf into a saucepan and fill with cold water to about an inch above the lentils. Simmer, uncovered until the lentils are tender – approximately 25mins.
Once cooked, remove the vegetables from the pan, then drain the lentils. Set the cooked, drained lentils aside.
In a large, high-sided frying pan, cook the bacon in a little vegetable oil, over a med high heat, until it starts to crisp.
Turn the heat down to medium then add the onion, leek and carrot. Allow the vegetables to sweat for a few minutes, stirring regularly to avoid burning. Once the leek and onion are tender, add the garlic and cook for a further minute.
Add the wine to the pan, to deglaze. Allow the wine to reduce a little before adding the lentils and chicken stock. Stir gently to combine all the ingredients then simmer for 5-10 minutes until the liquid reaches a sauce like consistency.
Finish the dish by stirring in the butter and crème fraiche. Taste and adjust the seasoning if required. Stir in the fresh herbs and serve immediately.
Pork chops
Pre-heat the oven to 170C (fan). Season the chops with salt.
Heat a large frying pan over a high heat. Heat the oil then add the chops and sear for 2-3 minutes on each side, until golden brown.  Add the butter, thyme and garlic. As the butter melts, use a spoon to baste the chops in melted butter. Continue to do this for a minute or so before transferring the pan to the oven (use an ovenproof frying pan if you can –otherwise transfer the chops into a roasting pan).
Roast the chops for 4-7mins (depending on size) then remove and set aside to rest while the lentils finish.
Leftovers?
If you have any lentils leftover they will keep in the fridge for a couple of days, and are every bit as tasty reheated or eaten cold.
Reserve the water and veg that the lentils were cooked in and use it as a base for soup. Most stock cubes/pots produce about 500ml, so add the remaining stock, a peeled, chopped potato and a few other bits of veg such as carrot, pumpkin, cauliflower, cabbage etc.  Simmer everything together until all the veg is tender, liquidise with a stick blender, then strain through a sieve to remove any stringy, tough bits. The resulting soup will be a rather muddy colour, but extremely nourishing and tasty. Serve with croutons and a dollop of crème fraiche, if you like.
Leftover crème fraiche? Try these other recipes: Quesadillas with beef burger and peppers or Fusilli with pork, peas, leeks and mushrooms.