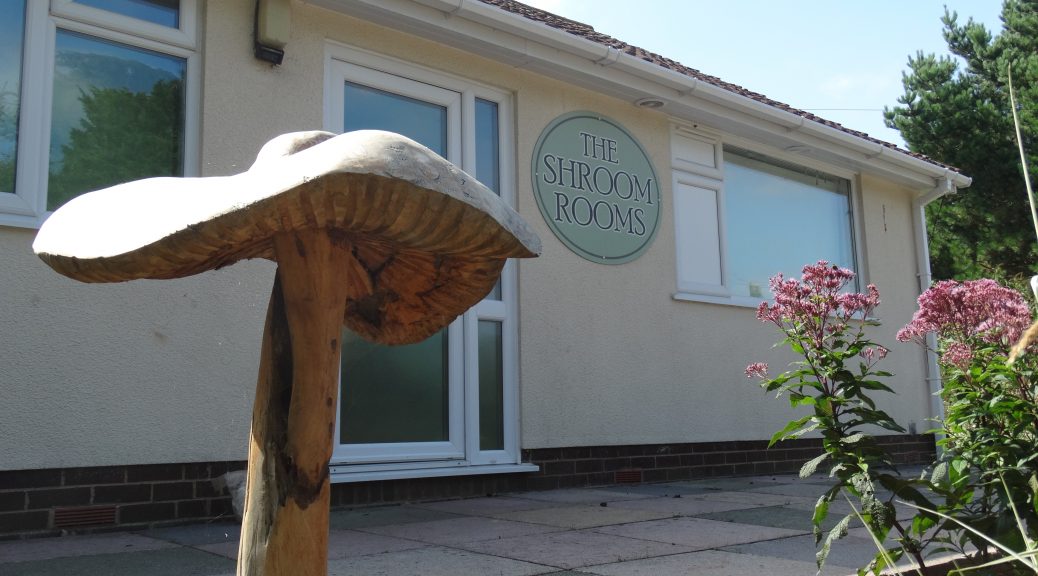 Forest Fungi
Forest Fungi
I haven't always appreciated how lucky I am to live in Devon.  In fact I moved away for over 10 years, adamant I would never return; but when I did, I fell in love with the county in a way I wouldn't have believed was possible.  One of the things that I really love, as a foodie, is the amazing variety of magnificent produce that can be found right on our doorstep.  It is easy, however, through habit, convenience, or shortness of time and budget, to rely on supermarkets for so much of what we eat.  That is why I have set out to find local producers who are offering products worth spending a little more time and money on.
Forest Fungi are definitely a fitting company to begin my journey with.  I had come across their mushrooms at Dart's Farm and been really impressed by the variety and freshness of the product, but it was at this year's Exeter Food Festival that they really caught my attention. In a sea of craft gin and micro-brewed ale their stall held the most enticing array of fungi – a fact not lost on the horde of other shoppers I had to fight through.  I knew that when I launched this blog, I would have to find out more about what they do.
And what a time I chose to get in touch.  This year has seen the business develop new grow space 'The Shroom Rooms' that will be open to the public by the time you are reading this, and I was lucky enough to get a sneak peek ahead of the opening, as well as a chance to meet the team behind these magnificent mushrooms.
I was introduced to Dave who was busy cropping in one of the new rooms and he talked me through the new space.  Using an old bungalow that has been gathering dust for many years (I'm told it had a lot of 70s styling still in place), they have stripped out much of the old interior to create a central atrium, with four grow rooms off the main space.  All of these rooms have glass doors so you can see the various mushrooms as they grow. On the walls in both the atrium and the grow rooms are information boards explaining the science behind the life cycle of a mushroom, details about specific varieties of mushroom (including how to use them in the kitchen), and a bit of history about the company.  I won't go into detail about the boards here – go and have a look for yourself!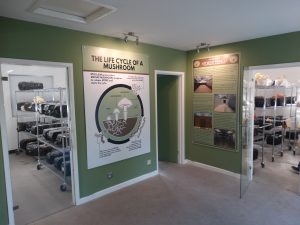 Dave tells me there are currently 9 different varieties they are growing; some will be familiar, like Shiitake and Oyster, while others such as Hen-of-the-woods and Nameko are likely to prove less well known.  I was particularly fascinated by the Nameko mushroom.  It grows with a slimy, gelatinous coating, making it rather unpleasant to eat raw (I was also advised against pickling it – apparently it just gets slimier), but great for use in soups, casseroles and stews, where it will help thicken the soup or sauce and provide a flavour similar to cashew.  This is where opening the grow rooms comes in to its own.  It provides the team at Forest Fungi a wonderful opportunity to educate, encourage and inspire their customers. If I were to simply see these slimy 'shrooms on a shelf, I would probably walk right by.  Now I am busy pondering recipes I could use them in, confident that I understand how to get the most out of the ingredient.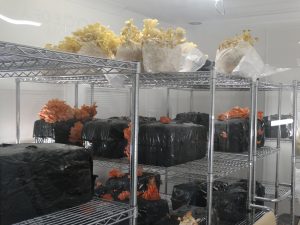 Of course there are details about the business that you won't find out by reading the signs. But everyone I spoke to was happy to tell me anything I asked about.  For example, Shiitakes continue to be grown in the original grow room.  There are two reasons for this.  Firstly they grow very successfully in that space which is large enough to meet demand (currently).  Secondly, when they are harvested, a reddish brown liquid is released from the substrate on which the mushrooms are grown.  In the old grow room, which does not have the pristine white walls and visitor-friendly glass doors of its newer sibling, this isn't much of an issue; the mess can be hosed down and washed away. In the new space I'm told, 'it looked like we had committed several murders.'  You may think that peeking behind the curtain in this way could be off-putting but for me it was exactly the opposite.  Not only did my experience give me a great look at how the mushrooms are grown but also who is growing them.  And what I saw was a group of people who care about and love what they do.
After Dave gave me the tour, I spoke with Scott who founded the company 5 years ago. His passion for the business and for the product is palpable.  At present they supply between 40 and 50 restaurants, but their own farm shop and café remains the biggest customer, in part due to Scott's determination to maintain control of the quality of the product that is available, and in part due to how successful the shop and café are.  The hope is that the new grow rooms will provide another reason for people to visit the farm and, to my mind, they certainly do that.
During our conversation, Scott spoke about plans for further developments down the line.  There is still some unused space on the site which could be used for additional growing space, or as a way of extending the café.  Having purchased the site this year (they have been renting since 2013), there was a real sense of excitement surrounding what the future of the business could be.  But this is not driven by corporate greed; It is very clear that Scott knows it is the people and the product that have made Forest Fungi a success so far, and he has no intention of losing sight of that.  There is a willingness to adapt the business to best meet challenges and take advantage of opportunities, while maintaining the ethos that the company was founded on and an unflinching position on quality. As Scott put it, 'There is a concrete plan, but it does change.'
If you have even the slightest interest in mushrooms, I cannot recommend strongly enough that you head down to Dawlish Warren and take a look for yourself.  Even if you don't, they could probably convert you! The team there are happy to help you choose the right mushroom for whatever you are trying to create if you have a dish in mind, or will suggest recipes you can try.
Follow the links to try their recipes for King Oyster Scallops or Mushroom Risotto (or you could try my recipes: mushrooms on toast and beef and mushroom stir-fry).
The café and farm shop are open year round and offer a great range of products from local producers as well as their mushrooms.  There are also regular stalls at various farmer's markets and festivals around the county, if Dawlish is a bit out of your way.
The Shroom Rooms will be open for viewing from this weekend (25/08/2018) and entry is free.