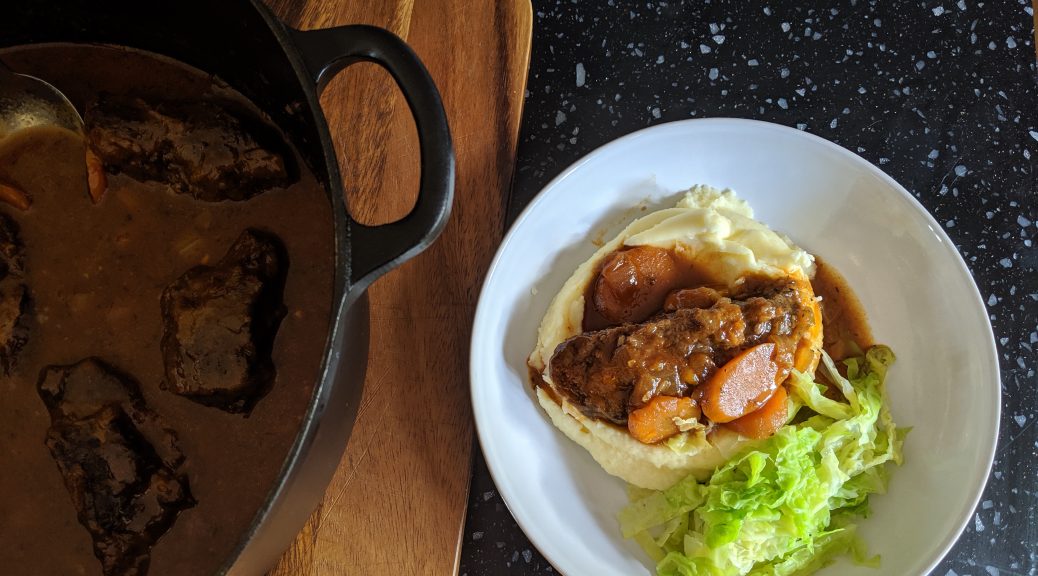 This is an amazing, rich, ox cheek stew – perfect as the days get shorter and the weather becomes colder.  Ox cheeks need to be cooked low and slow, so get this dish prepped and in the oven, brave the elements to work up an appetite, then head home to find dinner ready to eat. Ideal for a wet and windy weekend.
TIPS
If you like the liquid in your stew to be a little thicker, follow the recipe up to the end of step 6 then remove the meat from the casserole. Put the liquid on the hob and reduce until you achieve the desired thickness, then return the meat to the pan for a few minutes to warm through.
If you have any sauce left, strain it through a sieve and keep it the fridge for 2 or 3 days. It can be added to other dishes like cottage pie or spag bol, used to enhance the gravy for a roast dinner, or even tossed with some cherry tomatoes, grated cheese and pasta for a quick lunch.
Beer Braised Ox Cheek.
Ingredients
3 ox cheeks
2tsp salt
50g plain flour
Vegetable oil
1 large carrot, sliced
1 large onion, diced
2 large sticks celery, sliced
2 cloves garlic sliced
1tsp cinnamon
2 cloves
1tsp juniper berries
1 star anise
2tbsp tomato purée
2tsp dried thyme
2 bay leaves
500ml dark beer (I used Rip Tide from Salcombe brewery)
500ml beef stock
250ml water
Method
Firstly cut each cheek in half then season with salt.
Pre-heat the oven to 140C Fan. Dust the ox cheeks with flour, brushing off any excess.
In a large, oven proof casserole pan, heat a few tablespoons of vegetable oil then brown the meat on all sides over a medium high heat. Once the meat is browned, remove from the pan and set aside. Do this in two batches to avoid overcrowding the pan.
Place the carrot, onion and celery in the casserole, adding a little more oil if the pan looks dry. Turn the heat down to medium and fry the vegetables, stirring regularly, until the onion is soft and starts to brown – approximately 10-15 minutes.
Next, Add the garlic and all the spices and fry for a further minute before adding the tomato purée and cooking for a another two minutes.
Return the meat to the casserole and stir until the meat is coated in the tomato purée. Add the thyme, bay leaves and beer then bring to the boil. Next, add the stock and water. Stir, then bring the liquid back up to a simmer.
Put a lid on the casserole and transfer into the oven. Leave to braise for two and a half hours. Then remove from the oven and allow to rest for 20mins. The meat should be soft enough to break apart with a fork.
Serve with mashed potatoes and greens.