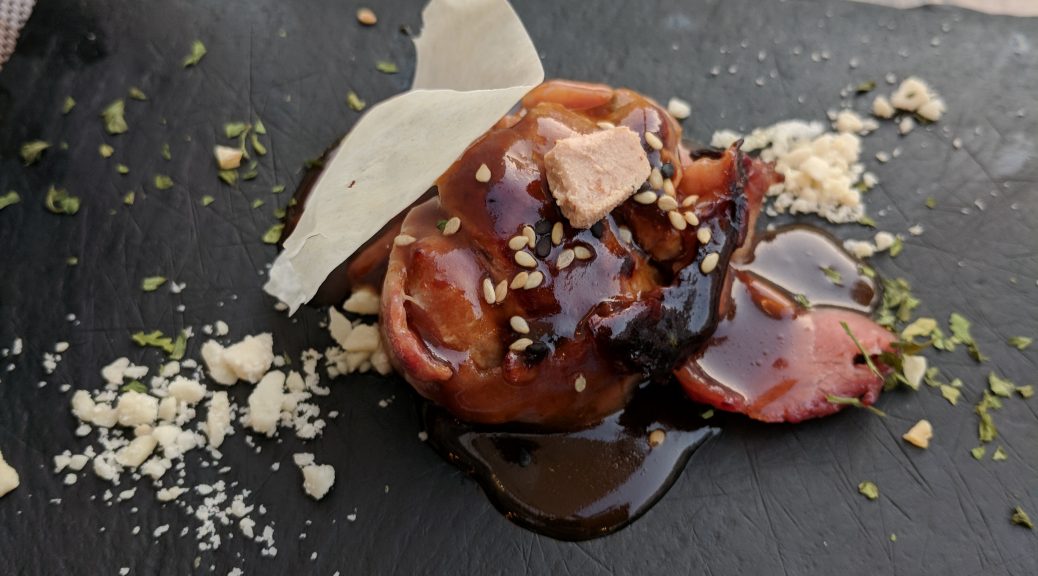 REVIEW: Alboka, Mijas, Spain
I have just returned from a family holiday in Spain, and while a trip with three families, five kids under six and only one real foodie (yours truly) doesn't exactly lend itself to a plethora of quality dining experiences, I was pleasantly surprised by the standard of food we ate. Even the London Inn, which, thanks our middle class snobbery and the presence of a Scot in our group, we initially dismissed out of hand, did an excellent fish and chips which we ate sitting on the beach in the evening sun.  The stand-out meal, however, was courtesy of a restaurant called Alboka.
Situated in the picturesque town of Mijas, up in the mountains overlook the Costa del Sol, Alboka is a fairly unassuming little restaurant nestled between two competitors that, to the untrained eye, appear to be offering variations on a similar theme. I cannot say with any certainty that I would have chosen it if it hadn't been for a recommendation from our friends who had visited the previous evening.  But to have missed this gem would have been a real tragedy.
As we entered I was struck by two things – firstly, this place was not courting tourist clichés. The décor felt stylish, contemporary and relaxed – a world away from many of the beachfront restaurants in the nearby town of Fuengirola. The second was the size of the kitchen. Through the serving hatch was a space that appeared to be about the size of a match box.  Now, I know there are plenty of great chefs producing wonderful food in small spaces, but I never fail to marvel at the logistics of this – I can barely make toast without turning the kitchen into a bomb site!
Once we were seated and got a look at the menu, I realised we had a problem: We couldn't possibly eat everything.  Fortunately, many of the dishes were collected under tapas or sharing plate headings, so we did order quite a lot…
As with any tapas menu the dishes simply arrived when they were ready, so we started with a salad of crisp, fresh leaves, beautifully sweet cherry tomatoes, confit mushrooms, boiled quail's eggs and a light, herby salad dressing.  It was a lovely showcase for great fresh produce, but what really set it apart was a soft, silky-smooth olive-oil ice cream that topped it off.  It was cooling and indulgent with just a hint of sweetness, and unlike anything I was expecting.  It was clear from this opening salvo that this was not going to be tapas as we know it.
The dishes that followed all subscribed to a similar ethos – familiar things, prepared and presented impeccably with a fresh spin on the idea.  Beef croquetas were served with a creamy goat's cheese based sauce that brought a delightful tang to each rich, unctuous bite.  The same sauce was used to top fried potato wedges in a delicious (and infinitely more interesting) take on patatas bravas.  Two little pork meatballs were gone in a second; spicy and succulent, I could have eaten them by the bucket load. A dish of black pudding served on fried breadcrumbs is something that sounds like hangover food but it was served with casual elegance that elevated the humble ingredients to new heights.
A couple of the dishes took things a step further however. Pork fillet wrapped in ham was served with a spicy, sticky Pedro Ximénez sauce that I am determined to recreate and then have with everything, it was that good. Meanwhile, a plate of octopus with orange, chilli and radish was a work of art – bright, vibrant and modern, it would not have looked out of place in a Michelin-starred dining room.  The combination of flavours worked brilliantly too.  The flavour of the octopus packed a punch while the orange brought sweetness and freshness to the dish.  Lastly the chilli joined the party to give a moreish kick to each mouthful.
We ordered desserts out of pure gluttony – a chocolate fondant and a lemon posset. Both were delicious, crowd pleasing puds – although not quite as exciting as the mains, they were still well made, well presented and very enjoyable to eat.
Throughout the meal, the waiters were attentive and friendly, the service was prompt without ever feeling rushed and the value for money was beyond excellent.  For everything I have described, plus drinks, we paid just over 50 Euros.  If you are planning on heading to the Costa del Sol for your holidays, you should seriously consider making time for a trip to Alboka.  If not, watch this space as I fully intend to reverse engineer the recipes…