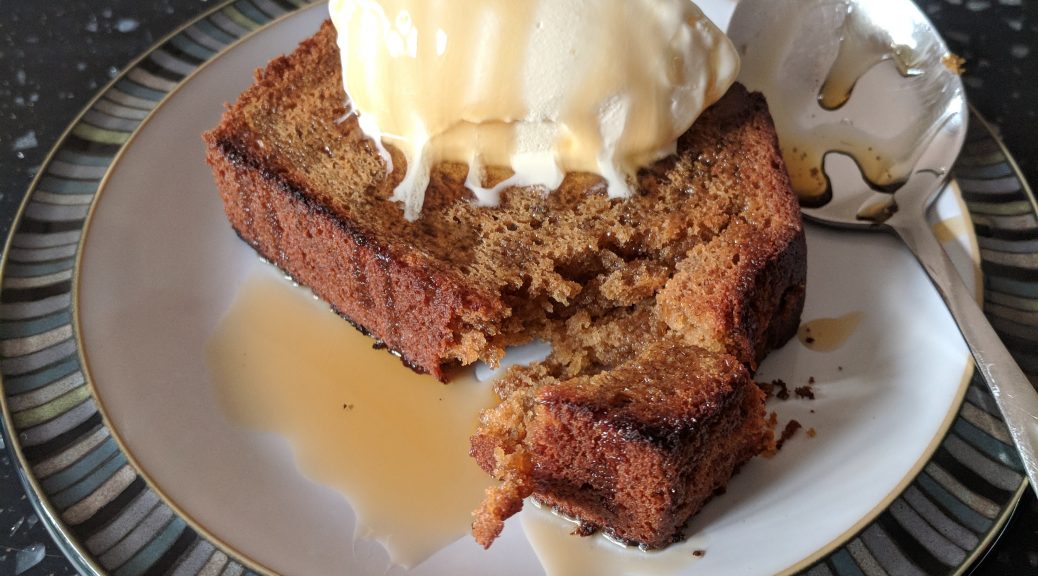 I love banana bread but find that some are a little sweet for my tastes, so I have developed this recipe through a bit of trial and error.  It is still undeniably banana flavoured, but the addition of black treacle and a little spice creates a slightly more complex, interesting flavour.  I would argue that this recipe is a bit more grown-up but my two year old goes mental for it so what do I know? Still, it is dead simple, has very little hands-on time and is a great way to use up a couple of bananas that are past their best.
TIPS:
You can make this recipe with self-raising flour (I don't tend to bother buying it anymore after reading a post on Nigella.com on the subject which you can see here). Simply use the same quantity of flour but only one tsp of baking powder.
Stand the spoon you are going to use to measure the black treacle in boiling water for a minute or two before using it.  The treacle will come off the spoon much more easily.
If you want to step things up from tasty tea-time treat to an indulgent dessert, try toasting thick slices of banana bread until the edges start to colour, then top with vanilla ice cream and maple syrup. It is honestly far greater than the sum of its (already pretty awesome) parts!
Spiced Banana Bread
Ingredients
100g  unsalted butter, softened, plus extra for greasing the loaf tin
175g  soft light brown sugar
2 medium eggs
1tbsp black treacle
2 overripe bananas (200g approx.)
2tbsp milk
1tsp vanilla extract
225g plain flour
3tsp baking powder
1tsp ground ginger
1tsp ground cinnamon
You will also need:
1 loaf tin 17x9cm (approx.)
Method
Preheat the oven to 160C fan. Grease the loaf tin generously.
Put the butter and sugar into a large bowl and beat until smooth. Add the eggs one at a time, ensuring each one is completely combined with the butter and sugar. Add the black treacle to the bowl and mix thoroughly.
In a separate bowl, place the bananas, milk, and vanilla extract, and mash together until they form a fairly smooth puree. Don't worry if there are a few small lumps. Add this mixture to the butter, sugar and eggs and stir to combine.  The mixture will almost certainly curdle at this point but this is normal. Don't panic.
Mix the flour, baking powder, ginger and cinnamon and sieve into the wet ingredients. Stir until all the flour is combined. Pour the mixture into the loaf tin and give it a little shake to level the mixture out.
Bake for 1 hour or until a skewer poked into the middle of the loaf comes out clean.
Allow to cool for a few minutes in the tin, before running a knife around the edges of the tin and turning the loaf out onto a cooling rack.
Eat as soon as it is cool enough to do so.  Wrapped tightly in tinfoil and stored in a sealed container the banana bread will keep for a couple of days, if it lasts that long…