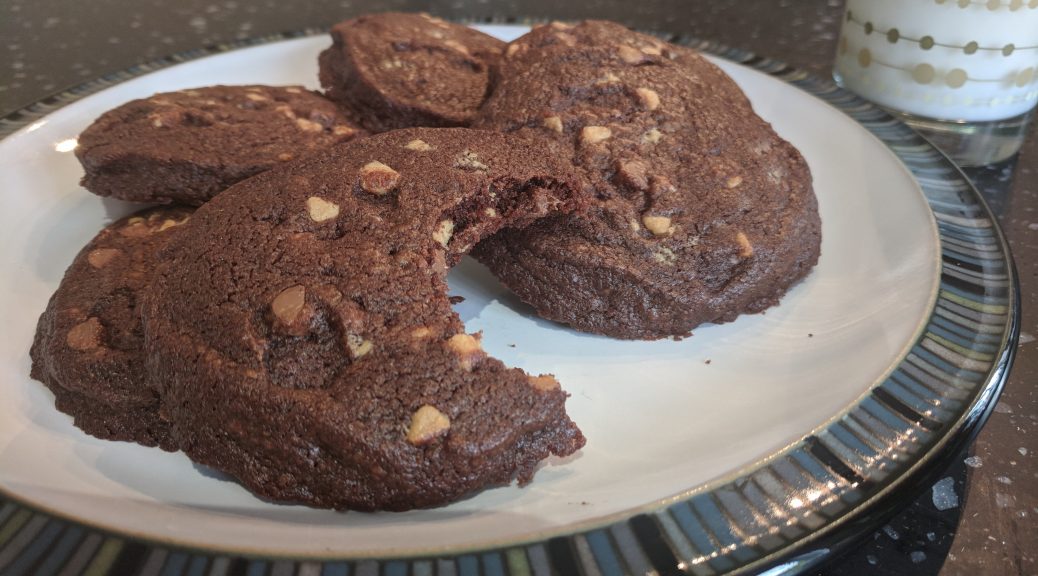 Double Chocolate and Peanut Butter Cookies
Double Chocolate and Peanut Butter Cookies
I spotted a bag of peanut butter chips while doing my weekly shop the other day. As Reese's Peanut Butter Cups are among my favourite chocolate treats,  I couldn't resist grabbing them. Although I'm sure they could be used to make a variety of treats, I immediately decided to use them to make cookies.  Below is the recipe I came up with. It produces thick, soft cookies with crisp, crunchy edges and a lovely balance of bitter cocoa, sweet milk chocolate and salty peanut butter.
TIPS:
The uncooked cookie mixture will keep in the fridge for a couple of days and can be sliced into cookies when you are ready to bake them. If you want to store it for longer, slice into pieces and freeze with a layer of grease-proof paper between each slice.  These can then be baked from frozen; just add 2-3 minutes to the cooking time.
Double Chocolate and Peanut Butter Cookies
Makes 16-20 cookies
Ingredients
225g  softened, unsalted butter
125g  caster sugar
1 medium egg
1tsp Vanilla Extract
225g Plain Flour
50g Cocoa Powder
100g Reese's Peanut Butter Chips
75g Milk Chocolate Chips
Method
Beat the butter and sugar together in a large bowl until the sugar is no longer grainy.Add the egg and vanilla extract to the bowl and mix thoroughly then sieve the flour and cocoa into the bowl and mix until completely combined.
Add the peanut butter chips and chocolate chips to the rest of the mixture. Knead briefly by hand to ensure the chips are evenly distributed through the mixture.
Place a couple of sheets of cling film onto the work surface. Shape the mixture into a sausage approximately 2 inches in diameter and then roll up in the cling film. Place the mixture in the freezer for 20 minutes to firm up.
Heat the oven to 170C Fan.
Slice the cookie mixture into pieces approximately 1cm thick pieces (each cookie will be roughly 45-50g) and place each slice on a baking sheet lined with baking paper. Leave plenty of room between each cookie as they will spread while baking.
Bake for 10-13 minutes. Keep an eye on the cookies while they are cooking as a minute or two will make all the difference between soft or crunchy cookies. They are ready when the tops have formed a cracked crust but the cookie itself is still soft and squidgy.
Once cooked, remove from the oven and leave on the baking sheet to cool for ten minutes.
Eat with a glass of gold-top milk (or a White Russian). If you must, store in an airtight container for a day or two.