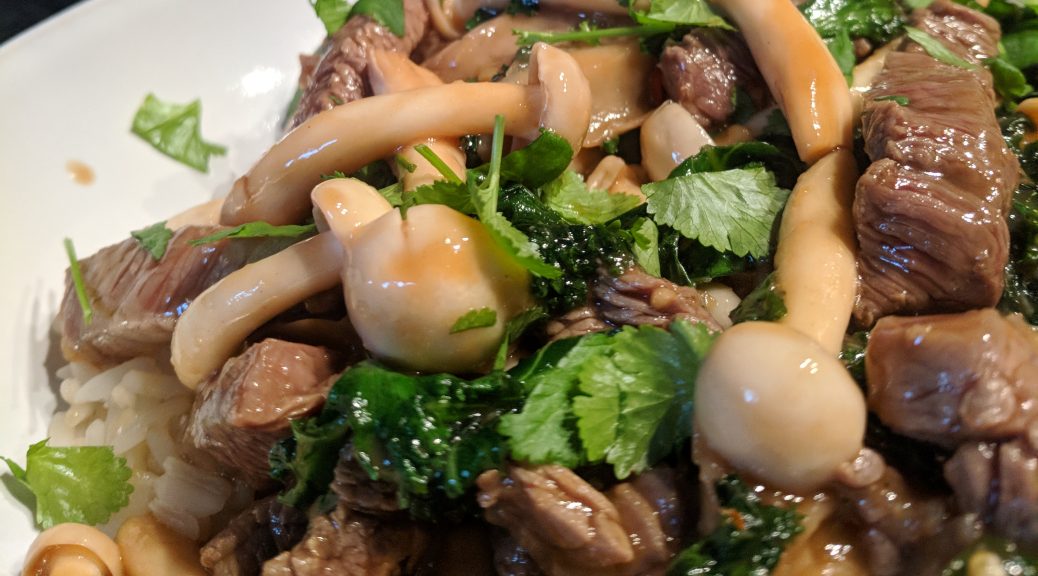 Beef, and Shmeji Mushroom Stir-fry
Beef, and Shmeji Mushroom Stir-fry
This recipe is something that I came up with one evening when I was eating alone – I simply threw some of my favourite things together, including some amazing shmeji mushrooms from Forest Fungi.  My first attempt was a little too salty, but the recipe below is the tweaked and (hopefully) improved version. I have also scaled the original recipe up to feed 2 people, but I would advise against trying to double it up to feed four – the pan will likely lose its heat and you will end up with a stew rather than a stir-fry.  Save this one for a cosy date-night!
Tips:  The quantities in this recipe do not need to be followed precisely.  If you buy a bunch of spring onions and there is 7 in there?  Chuck them all in.  Can't find exactly 300g of steak? A little bit more or less won't make a lot of difference. In particular check the quantity of oyster sauce that you use – I have found that some varieties are much saltier than others so when you make the marinade, check the seasoning before using it.  For this recipe I used Blue Dragon Oyster Sauce due to its wide availability (most supermarkets).
If you can't get your hands on shmeji mushrooms, you could use oyster or shiitake mushrooms instead.
You will also need a large wok.
Beef, Spring Onion and Shmeji Mushroom Stir-fry
Serves 2
Ingredients
For the marinade:
1 birds eye chilli
2 tbsp oyster sauce
2 tbsp dry sherry or rice wine
1 tbsp tamarind paste
2½ tsp ginger paste
2 tsp garlic puree
2tsp rice wine vinegar
For the stir-fry:
300g rump steak
150g shmeji mushrooms
6 spring onions
75g curly kale
3 tbsp water (if needed)
Fresh coriander to garnish
Method
Finely chop the chilli and place into a glass bowl with all the other marinade ingredients. Mix together and taste. If it tastes too sour add a little more oyster sauce. If it is too salty add a little more tamarind.  Thinly slice the steak and add to the marinade, stir to ensure the meat is coated and leave on the side, covered, for twenty minutes.
While the steak is marinating, prepare the vegetables. Separate the mushrooms and brush off any dirt. Slice the spring onions lengthways, then slice thinly on the diagonal.  Lastly remove any stems from the kale and chop the leaves into bitesize pieces.  Keep these ready for when you start cooking
Heat a large wok over a high heat. When it is smoking hot, add a couple of tablespoons of vegetable oil.  Once the oil is hot, lift the meat out of the marinade and place it into the wok. Do so gently as it will spit.  Stir-fry for two minutes or until the meat is just coloured, then add the mushrooms, spring onions, kale and any remaining marinade and fry for a minute or two more. If the pan starts to get too dry, add the water – once the kale softens it is ready.
Garnish with fresh coriander and serve with boiled rice and steamed tenderstem broccoli, which is especially good if dressed with a little sesame oil and soy sauce once cooked.