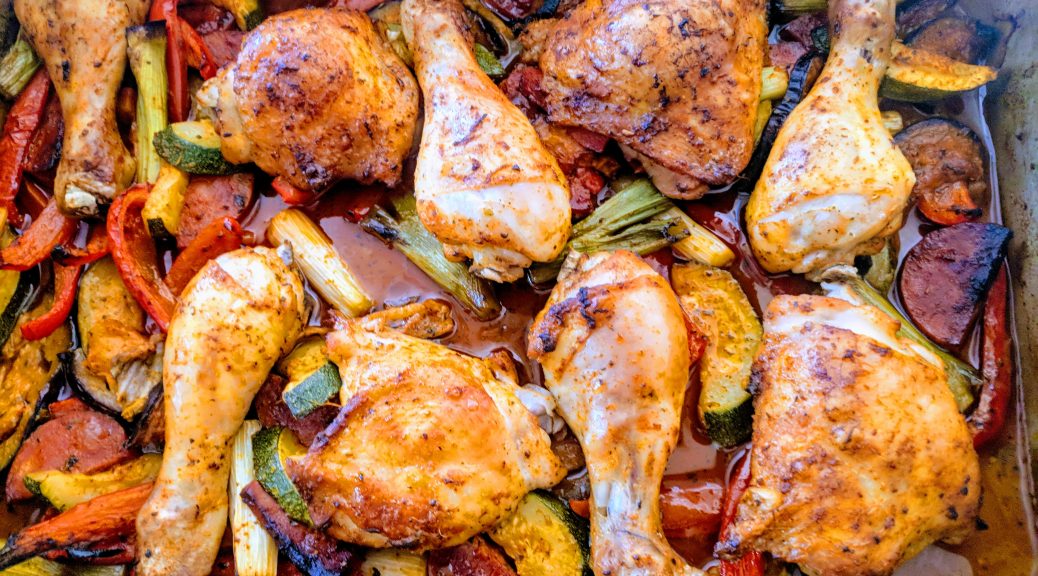 Chicken and Chorizo Tray Bake
Chicken and Chorizo Tray Bake
This is barely a recipe – more just something I threw together once and have repeated a number of times since, but it is quick to prepare, cooks in under 30 minutes and is really tasty.  Treat the recipe here as more of a guide – It is great the way I have described but is also a fantastic way of using up a few leftover odds and ends that are in the fridge. This has become something of a family favourite in our house – give it a try and I'm sure you will love it too!
TIPS – Salting the chicken in advance is not essential but worth doing if you can.  If you don't have time, just follow the method as described, but leave the chicken out while you prepare the marinade and chop the vegetables.
Chicken and Chorizo Tray Bake (Serves 4)
Ingredients
1kg Bone in, skin on chicken thighs and legs
2tsp table salt
2tsp smoked paprika
1tsp herbs de Provence (or similar mixed herb blend)
1tsp garlic puree
Juice and zest of one lemon
2tbsp olive oil
200g chorizo
2 red peppers
1 medium courgette
1 bunch of spring onions
Method
Place the chicken pieces into a roasting pan and sprinkle with the salt. Try to ensure you evenly coat all the pieces. Do this job on the same day you are cooking as early as possible – if you can season in the morning before going to work, the meat will be more evenly seasoned and really tender once cooked. Store in the fridge until about 30 minutes before you want to start cooking then leave out to come up to room temperature.
Heat the oven to 190ºC fan (210ºC conventional).
Mix the paprika, dried herbs, garlic purée, lemon juice, lemon zest and oil together in a large bowl to create a marinade.
Slice the chorizo into rounds about 1cm thick, then halve these to create semi-circular chunks. Chop the peppers and courgette into bite-size pieces.  Trim and clean the spring onions.  Cut each one into 3-4 pieces.
Put all the vegetables, the chicken pieces and the chorizo into the bowl containing the marinade. Mix everything together thoroughly with your hands. Make sure the spice and oil mixture has coated everything, then spread the vegetables and chorizo out evenly in the roasting pan and place the chicken on top, skin side up.  Wash your hands.
Place the roasting pan into the middle of the oven and roast for 20-30 minutes. It is ready when the chicken skin is crisp and the juices run clear from the meat if pierced with a skewer.
Serve with whatever takes your fancy – crusty bread and a salad works brilliantly, as do roast potatoes.