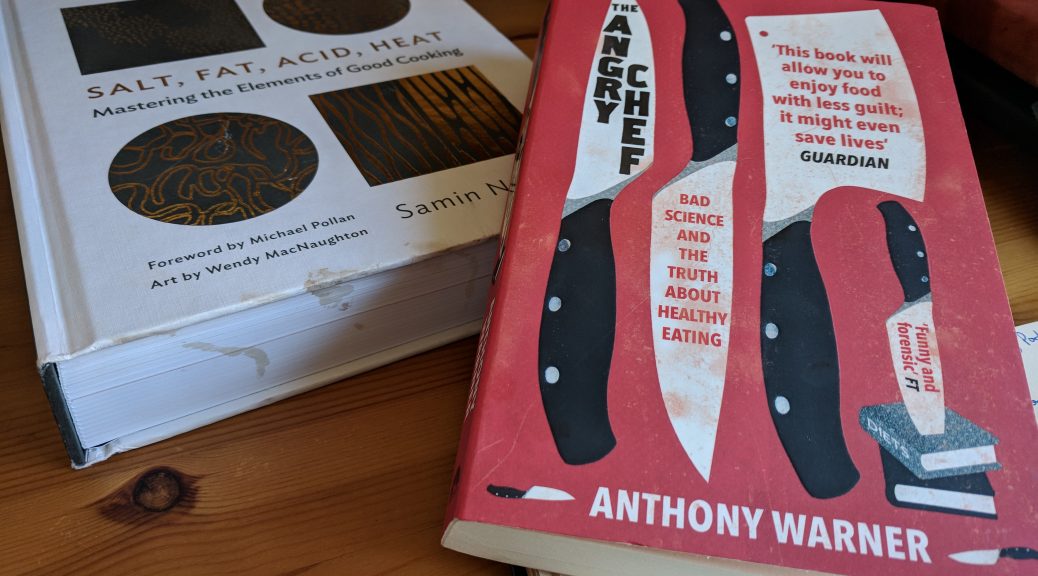 James on Books – 'Salt, Fat, Acid, Heat' & 'The Angry Chef'
James on Books – 'Salt, Fat, Acid, Heat' & 'The Angry Chef'
Although Literary review does not really come within the remit of this blog, the summer holidays have afforded me a little more time and there are a couple of books I have been reading recently that are extremely enjoyable.
Salt, Fat, Acid, Heat
If you are reading this (and not related to me – hi Dad!) then odds are you like your food and probably enjoy cooking.  I picked up Salt, Fat, Acid, Heat by Samin Nosrat entirely on a whim – Viv needed me out of Waterstones quick and I was drawn by the fact it was not just a cookbook.  What Nosrat manages to do in this book is break down the fundamentals of cookery into the four elements of the title, allowing the reader to develop a deeper understanding of not just what to do but most importantly why to do it.  There are countless cookbooks out there that will guide you towards creating tasty food, but this will teach you how to create your own dishes.  If, like me, you already experiment in the kitchen, then Salt, Fat, Acid, Heat will prove utterly indispensable as it not only provides valuable tips to improve your cooking but also various beautifully illustrated tables, graphics and guides to help match flavours and styles of cuisine.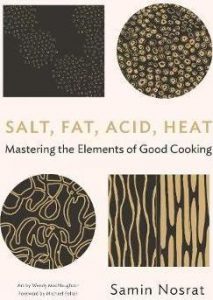 The information is presented elegantly too.  Nosrat balances the science of cooking with observations and anecdotes from her own experiences – often her mistakes – to ensure that the content is accessible.  She also does a wonderful job of allaying any fears the reader might have – constantly reminding us that mistakes will happen to even the best chefs but all can be used to learn and improve. The foreword strongly suggests reading the book from start to finish – not something I would naturally do with a cookbook – but it is well worth doing, not only because of how it will develop your understanding, but also because it is a damn good read.
Salt, Fat, Acid, Heat is, in essence, a book of two halves; in the second half there is a wonderful collection of recipes – many of which are suggested as ways of experimenting with the principles laid out earlier, but all of which give the reader a chance to test out their new-found understanding and eat very well at the same time!  In the spirit of discovery and experimentation that runs through the book, there are numerous variations suggested too, encouraging us to truly play with our food in the best possible way!
As a final endorsement I will take a leaf out of Nosrat's book (pun intended) and use an anecdote.  In my excitement over the book, I showed it to a friend who had come over for lunch, expecting her to politely flick through a few pages before putting it down.  When she did finally surface, after reading the first 40-50 pages, it was to try out one of the suggested experiments into the effects of salt on bitterness in food. As the book then did the rounds all afternoon we lost person after person to its charms.  Buy this book: read it, enjoy it, learn from it, cook from it – but hide it when people come over for dinner!
The Angry Chef
The second book I have devoured recently is Anthony Warner's deeply scathing look at pseudoscience in the world of nutrition.  I will freely admit that I bought this book because some very creative swearing in the introduction made me smile, and although there was less profanity than that intro led me to believe, it is a compelling read nonetheless.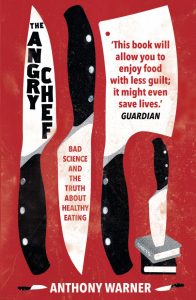 Much of what The Angry Chef aims to do is look at the science behind the claims of many of the diets and health advice that is so freely available today, as well as debunking some of the myths that exist around food.  The subject matter has been researched in extraordinary detail, creating a compelling argument against the quackery of many so called wellness gurus.  I should probably say – if it wasn't already obvious – that with me as his audience, Warner is preaching to the choir. But behind the vitriol and poking fun at high profile proponents of 'nutribollocks' (Gwyneth Paltrow takes a pummelling) seems to be a genuine concern – that people might do themselves harm because of following a diet that has no scientific sense.  There is also the message that a healthy diet is not one of restriction and denial but one of moderation and enjoyment.
Warner has managed a great balancing act – the book is informed and informative while being entertaining, scientifically rigorous yet accessible and wonderfully crude while remaining charming.  It is unfortunate that those who probably need this book the most – the fad dieters who jump from trend to trend desperately hoping for some perfect version of themselves to emerge – will probably never even pick it up.
Have you read any interesting foodie books recently?  Let me know in the comments below!