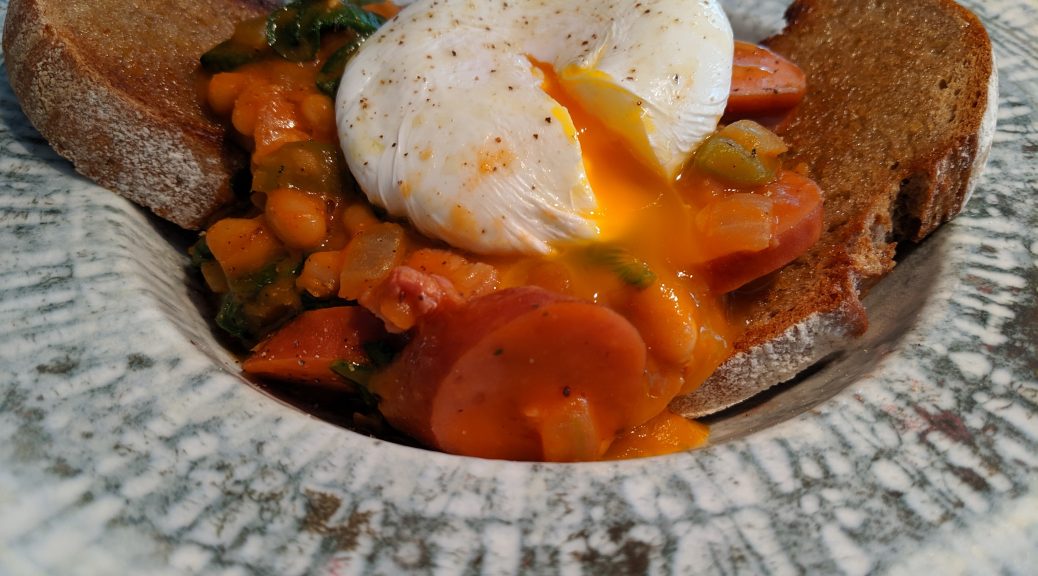 I feel like a bit of a charlatan calling this a recipe, but if Delia can write a recipe for boiling an egg…  I am putting a recipe for beans on toast up here simply because it is a delicious way to use up leftovers.   Stale bread will make the crunchiest toast and the rest of the ingredients are almost completely interchangeable.  Just use whatever you have in the fridge!
TIPS:
Treat the recipe and quantities below as more of a guideline than an absolute set of instructions.
Replace the bacon and sausage with any leftover cooked or cured meats, such as roast pork, gammon, ham, cooked sausages or braised beef. 150g is a decent quantity for a single tin of beans.
Switch the onion for shallots, leeks or even spring onions if you need to use them up.
Use whatever type of chilli you have around or prefer (fresh/powdered/sauce) – I often have one or two fresh ones left over when buying for other recipes.
Try adding other veg such as mushrooms, chickpeas, kidney beans or swiss chard.
Top your beans and toast off with a poached or fried egg for an even tastier meal!
Beans on Toast
Serves 3-4 people
Ingredients
1 small onion, diced
1 small pepper, diced
2 rashers of bacon, diced
100g ready to eat smoked sausage, sliced
1 tin of baked beans
2tsp sriracha
2 tbsp BBQ sauce
2 pieces of bread per person
75g baby spinach
Method
In a frying pan, fry the onions and pepper until the onions start to caramelise.
Add the bacon and continue to fry until crisp.
Place the bacon, peppers and onions with the sausage, beans, chilli sauce, and BBQ sauce in a saucepan over a low heat. Bring to a simmer.
Put the bread on to toast.
Add the spinach to the beans and stir in until just wilted.
Serve the beans on top of toast. Eat immediately.