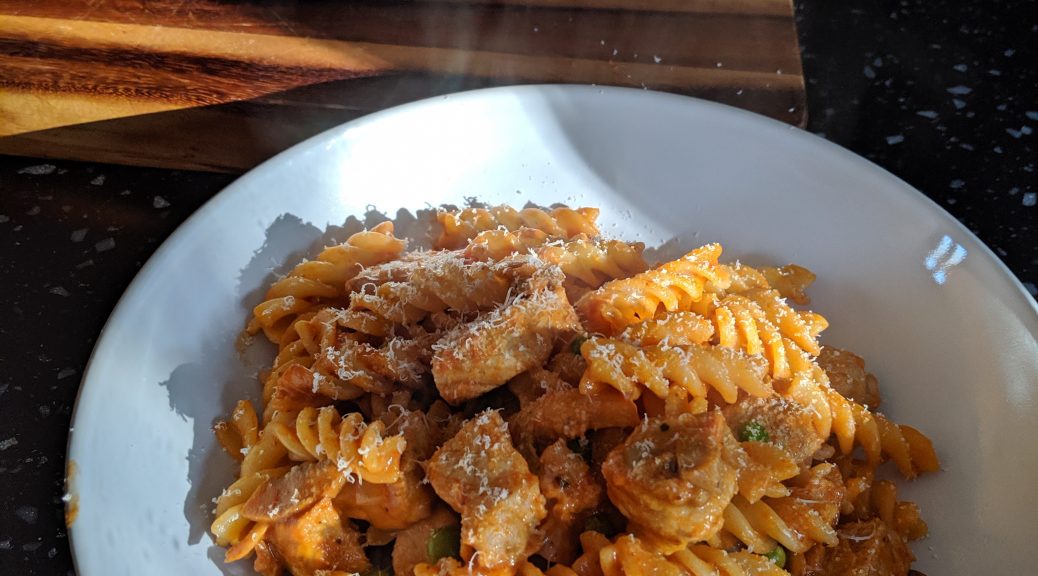 Quick and Easy pasta with Pork, Peas, Leeks and Mushrooms
This quick and easy pasta recipe is a regular week night supper in my home – If you prep all of the ingredients before you start cooking, the sauce can be made in the time it takes to cook the pasta.  It is another great dish for using up leftovers. Add other vegetables to the sauce if they need using up, or replace ingredients you don't have with something similar; it will still be delicious. See the tips below for suggestions.
TIPS
The pork could be replaced with gammon or roast pork, just skip the initial step of frying the meat
If you have some sausages that need eating up, sausage meat is another good alternative. Squeeze the sausage meat out of the skins (about three sausages is plenty), then fry, breaking it up into small pieces as you go.
If you don't have leeks, use a large onion, diced, instead.
Try adding other vegetables such as peppers, spinach, green beans, runner beans or fennel. This is great if you have odd bits of unused veg left over from other recipes.
Replace the water with white wine If you have a bottle open.
Use whatever pasta shape you prefer – I like fusilli because the sauce coats it really well but anything will work.
Quick and Easy Pasta with Pork, Peas, Leeks and Mushrooms
Ingredients
1 large leek, trimmed, cleaned, halved lengthways then sliced thinly.
100g chestnut mushrooms, sliced
400g pork steaks, cut into 2x2cm pieces
400g fusilli
2tbsp tomato purée
3tsp smoked paprika
1 tsp dried oregano
250ml water
50g frozen peas
4tbsp crème fraiche
Salt and pepper to season
Parmesan and fresh herbs (optional) for garnish
Method
Prepare the leeks, mushrooms and pork then set aside. Get a large pan of water on the boil, salt generously and put the pasta in.
Season the pork with salt. Then, over a medium high heat, fry until golden brown. Remove from the pan and leave to rest.
Turn down the heat slightly, then add the leeks, stirring regularly until soft. Add the tomato purée and cook for 2 minutes, before adding the mushrooms, and frying for another minute.
Return the pork to the pan and add the paprika and oregano. Combine then add about 2/3 of the water. Turn down to a simmer. If the pan starts to look dry add a little more water.
When the pasta is nearly cooked, add the peas to the sauce, stir then add the crème fraiche. Warm through, taste and season with salt and pepper.
Strain the pasta and combine with the sauce. Serve immediately topped with grated parmesan and fresh herbs, if you wish.